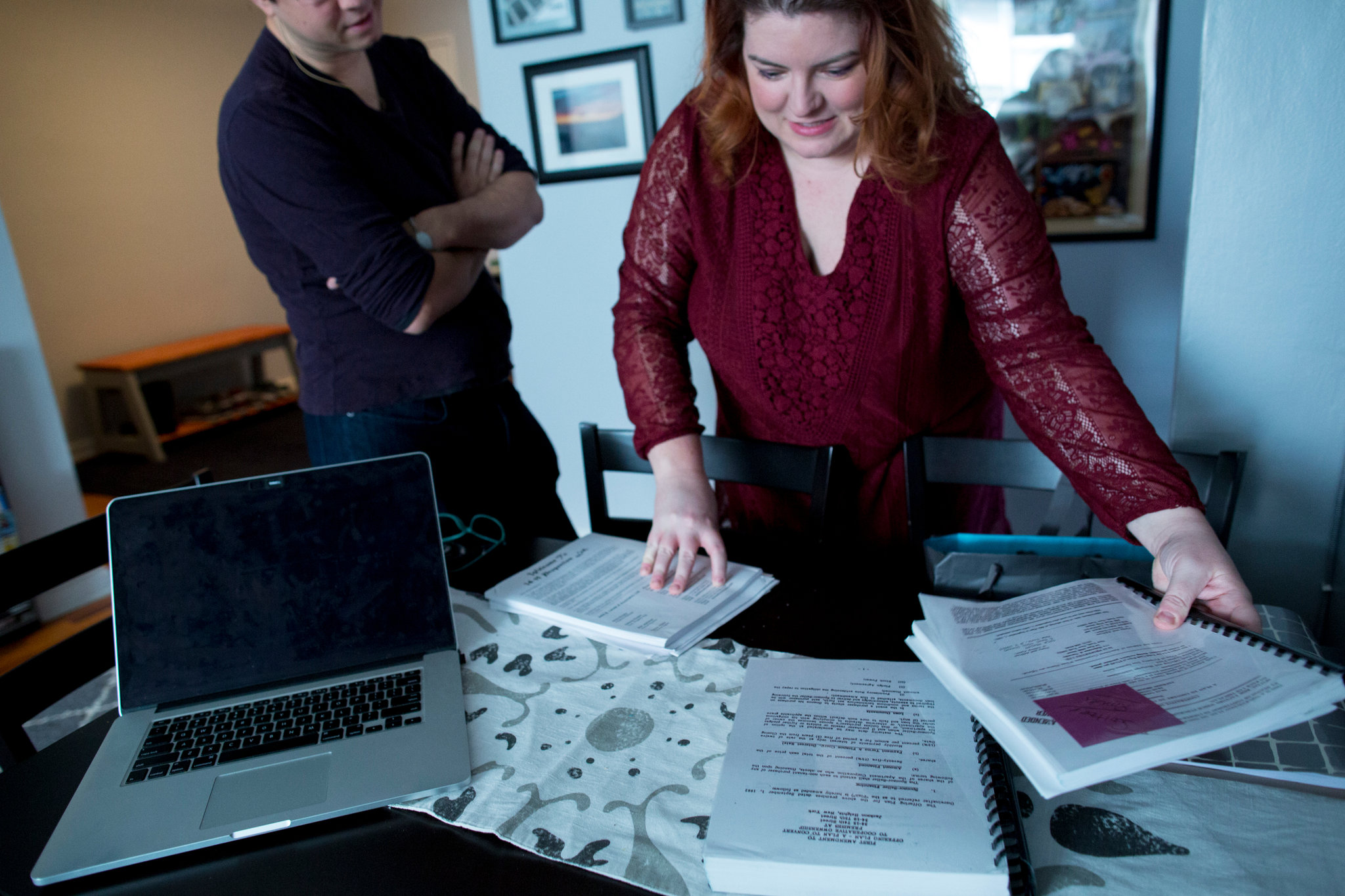 Nikki Switzer, right, and Sean Smith browse printed booklets they received when they bought their two-bedroom apartment in Jackson Heights.CreditYeong-Ung Yang for The New York Times
Line Up Your Team
THE BROKER. Sellers, not buyers, pay the broker fee. So, your broker works for you at no direct cost. A broker will shepherd you through the process from the first open houses until you close on the sale, helping to negotiate and navigate any sticking points along the way. To find the right one, talk to friends and listing agents at open houses, and look for agents with expertise in the neighborhoods you like. Try an agent matching service like the Find Me an Agent feature Barbara Corcoran recently added on her website.
THE LENDER. If you need a loan, shop around by talking to lenders at banks both large and small, and to mortgage brokers.
THE LAWYER. You will need a real estate lawyer to negotiate the contract, review the building's financial statements and board minutes, and make sure there are no violations against your apartment. A lawyer also orders title insurance and works with your lender to make sure you close on time. Get referrals from your real estate broker, friends and colleagues. Expect to pay your lawyer around $3,000.
Unexpected Costs
CLOSING COSTS. These are the fees, taxes and insurance payments due when a buyer signs a mortgage and takes possession of the property. Closing costs vary based on the purchase price and mortgage size, but they often total in the five figures. Closing costs are substantially higher for condos and houses than they are for co-ops because co-op buyers do not pay a mortgage recording tax, which is about 2 percent of the mortgage. If a property in New York sells for $1 million or more, it triggers a 1 percent mansion tax on the purchase price.
SOME CUSHION. Make sure your savings account has a little cushion in it for unanticipated costs. Even if you're not buying a fixer-upper, many apartments need tinkering. The furniture from your rental may not fit. The living room may be avocado green. Set aside extra money for a fresh coat of paint, a new kitchen backsplash or a new sofa to make the place a little homier.
Get Your Ducks in Order
PAPERWORK. If you need a mortgage, get your paperwork in order early. Lenders, condos and co-ops ask for financial information like tax returns, pay stubs and bank statements. Co-ops also want personal reference letters. Figure out who will write those letters long before you find your dream home. "You're going to have to print up a zillion bank statements, letters," said Pierre Debbas, a Manhattan real estate lawyer. "Get on top of it from Day 1."
If you need a mortgage, avoid sudden changes 60 days before you close — so no new jobs, new cars or big purchases. Also, be prepared to explain the source of amounts deposited into any of your accounts during this period.
Stand Out From the Crowd
THE LETTER. The field is crowded, so anything you can do to shine makes a difference. Cash is king. However, there are other ways to get attention. Many buyers write letters, singing the praises of the apartment they hope to buy. Danielle Lurie, a Compass sales associate, says letters have helped as many as half of her buyers win bidding wars.
TURN ON THE CHARM. Shari Wyler, who bought a two-bedroom in Washington Heights last year, is convinced her offer won out because she chatted with the listing agent at the open house.
A version of this article appears in print on , on Page RE16 of the New York edition with the headline: A Cheat Sheet
. Order Reprints | Today's Paper | Subscribe